This is a new page that will grow as I add more information. Where most of this website is dedicated to gun shipping, this page refers to RV facilities and camping.
For motorcycle camping in Tok, Alaska, visit Thompson's Eagle Claw.
For reference, Tok Junction is located at Mile 1314 Alaska Highway.
RV camping in Tok, Alaska
The following RV facilities are in our Tok community.
State Parks Near Tok
There are three state parks near Tok.
Eagle Trail State Recreation Site is 16 miles south of Tok at mile 109.5 of the Tok Cut-Off Highway. As of 21-Feb 2019, the fee is $20 per night.
Moon Lake State Recreation Site is near mile 1332 of the Alaska Highway, 15 miles northwest of Tok. As of 21-Feb 2019, the fee is $20 per night.
Tok River State Recreation Site is 4.5 miles east of Tok at mile 1309 of the Alaska Highway. As of 21-Feb 2019, the fee is $20 per night.
For more detail, visit Alaska DNR 's State Parks near Tok. For a larger list of Alaska State Parks, see Alaska State Park Campgrounds.
Free Camping
This list will grow as we learn more locations. Most state owned gravel pits will suffice for free overnight camping as will the random pullout but the farther from the highway you can get, the quieter the camping usually is. A phone app that I recently began using and like very much is called Free Campsites. Look for the following image: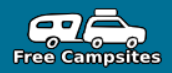 Gravel Pit — 1.8 miles east of Fast Eddies Restaurant on the north side of the Alaska Hwy.
Gravel Pit — 0.8 miles east of Fast Eddies on the south side of the Alaska Hwy.
Closed Airstrip — 0.5 miles south of the Alaska Hwy on the Tok Cutoff Hwy on the east side of the road. Locals used to tie down their airplanes here but the Corporation had their lawyers chase us off. To park here overnight is probably okay as long as your RV doesn't have wings and a propeller.

Pullout at Mile 1344.5 Alaska Hwy. —This one is 30 miles from Tok going towards Fairbanks.
Alascom Access Road — Mile 118.4 Glenn Hwy. This is my favorite camping spot and it's free. It is beautiful with an awe-inspiring view about 4.5 miles northeast of Sheep Mountain Lodge and perhaps twenty minutes southwest of Eureka Lodge adjacent to Gunsight Mountain and not far from Matanuska Glacier. The following screenshots should help. I'll add more detail later so check back.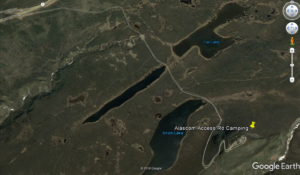 Public Lands Camping in Central Alaska accessible by road
This link will take you to a PDF of the map on the National Park Service website. Click here => Public Lands Camping